---
Follow me on
Instagram
for more healthy living ideas.
---
Spelt Pasta with Olive Paste

Quick & Easy Dish - Spelt Penne with Olive Paste, Extra Virgin Olive Oil and Mineral Salt.

Spelt contains protein and minerals, etc. And unlike its wheat cousin, it is alkaline on the body.

Extra Virgin Olive Oil is also alkaline, but I'm hesitant to call it healthy as it's a processed food and not a wholefood. (See also Dr Caldwell Esselstyn's research on the subject of consuming oil).

Just watch the salt as the olive paste can be quite salty already.


---
Lentil Penne, with Organic Yellow and Red Peppers & Organic Sweet Green Peas

Cook lentil pasta according to instructions on packet
Add Sweet Peas, Red & Yellow Peppers, 1 minute before finish
Drain pasta, leaving some pasta water to keep it moist
Extra Virgin Olive Oil
Garlic Powder
Mineral Salt to taste
---
Buckwheat Noodles & Wakame Served in a Ginger Broth
Ingredients
Buckwheat Noodles

Wakame

Organic Ginger Powder

Mineral Salt
Soak Wakame in cold water 10-15 minutes; Cook buckwheat noodles; Mix 1 teaspoon organic ginger power in 400-500ml of boiling water; Pour ginger broth over noodles in bowl; Mix in Wakame. - Voila!
---
Whole Wheat Penne Pasta with Tomato Sauce. So Simple, So Tasty!
---
Brown Rice Pasta Served with Vegan Gluten- Free Pesto Sauce

Vegan, Fat-Free, Nut-Free, Gluten-Free Pesto Sauce with Brown Rice Pasta.
Pesto Sauce - Blend until smooth - (Raw) Zucchini, Garlic, Fresh Basil Leaves, Silken Tofu, Mineral Salt & Pepper.
Oven roast cherry tomatoes (no oil).
Cook & drain pasta.
Stir the pesto sauce and tomatoes into pasta . Adjust seasoning. Serve! :-)
---
Brown Rice Pasta Served with Raw Cauliflower & Edamame

Cook brown rice pasta until 'al dente' (Can use any wholegrain pasta of your choice)
Add raw cauliflower and raw fresh soy beans (Edamame)
Drizzle a little extra virgin olive oil
Season with Mineral salt and pepper
Toss and serve
---
---
Powered by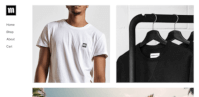 Create your own unique website with customizable templates.