Alicia Silverstone Helps Uncover the Cruelty of Down

The down industry often plucks geese alive in order to get their down, causing bloody wounds as the animals shriek in terror. Once their feathers are ripped out, many of the birds, paralyzed with fear, are left with gaping wounds—some even die as a result of the procedure. Workers often sew the birds' skin back together without using any anesthetics. This is the price animals pay for your ski jackets, pillows, and duvets etc.
---
---
Powered by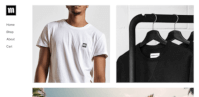 Create your own unique website with customizable templates.